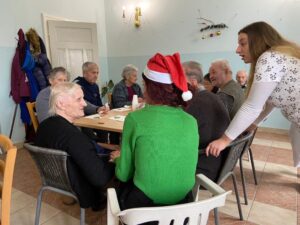 Including all the categories of society and supporting them is very important for Impress and for this we take action. Today Impress team went for a visit to the elderly house. On this visit was Bojan Blazevic part of the management team at impress and also the economist of Impress.
Bojan as a representative of Impress said: "Impress is here today to support this group of society and create a good atmosphere near the Christmas season we came here with this mission to support them and tell them that we are at any moment here to give them social support ".
Volunteers of the European solidarity corps had prepared some small gifts for the elderly to show the support and appreciation that we have for them for the contribution that they have given to the community. So as Impress we feel that we can at least with small gestures as today we can give a sign of support and appreciation to the elderly group of people.
Impress volunteers prepared advance Christmas Cards and some decorations for the elderly to give them as a small detail and they can add this to their Christmas tree.
The elderly were very surprised by this visit and they appreciated so much the support that Impress is giving with these small gestures but for them, it is a big appreciation and this makes them feel part of the society and also very supported this pre-Christmas time.
We will keep supporting all the groups of society, youth, school students, the elderly, etc. This is our mission as impress to support all the groups of our community, to include and create a better social environment for everyone.