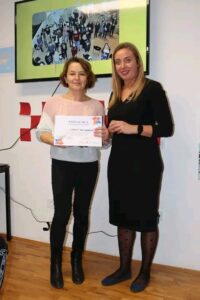 Volunteers and volunteering are celebrated every December 5th on International Volunteering Day. This is a day focused on solidarity, cooperation, and positive change. It is a day to recognize and celebrate the work that volunteers do in their communities, but it is also an opportunity to inspire others to become involved in volunteering.
So, why is it important to inspire others to become involved in volunteering? Volunteering not only benefits the local community but also benefits the volunteer too. Firstly, working with people from different backgrounds broadens your perspective on the world as you learn about, and understand new cultures, attitudes, and behaviors.
Secondly, volunteering increases your happiness. Volunteering for a cause that you care about adds value to your life because you feel like you are helping people and having a positive impact on society. Lastly, volunteering offers you new skills and experiences. These are very valuable additions to your CV and show future employers that you are a proactive and determined person.
How can you get involved in volunteering? Check out Facebook groups in your country for different opportunities to volunteer at a local and international level. If you are a member of an EU country you can follow Europingram or European_youth_eu on Instagram where opportunities are posted daily. If you wish to volunteer abroad, either short-term or long-term, The European Youth Portal is an excellent online platform that offers information and opportunities about EU-funded projects. If you want to start smaller, try to contact your local NGOs about any openings they have and start local. 
At Impress, we honored our local volunteers of Daruvar on that day with certificates of appreciation for the contributions that they give to our local community with the actions that they take in different campaigns of health and social activities.
Their contribution should be appreciated and valued in the best way possible because they give everything without waiting for that help to take something back. Volunteers drive the world and share love in an unconditional way. 
Now that you know why and how to volunteer, perhaps when December 5th rolls back around next year you will be celebrated!