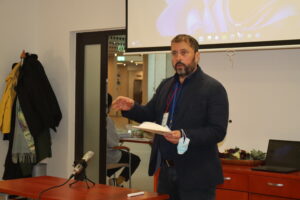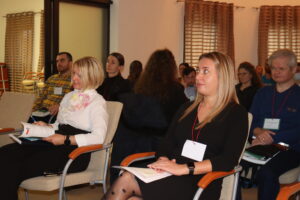 On November 29, the Croatian Federation of Associations for Autism, with its representative and leader, Tomislav Cvrtnjak, in cooperation with Impress Youth Center, organized a conference in which representatives of different organizations of people with physical, intellectual, and psychological disabilities were invited. Organizations of people with disabilities social groups gave brief presentations about the issues they face on a daily basis.
 Also, they present some guides for people on how to approach people with disabilities and how to be more friendly and understanding with people who have disabilities, depending on what kind of disabilities they have. Also important for them is how they communicate and try to connect to people with disabilities, always being aware of how to do this and connect with them in a proper way without creating a judgment or insult against them.
Representative of the Federation of Dystrophy Associations of Croatia, Slobodan Marinkovic, presented at this conference the projects and activities that this association is implementing for people with disabilities of all ages in order to create an inclusive environment for them and provide a social life as part of society with the same advantages as any other person in the community.
 Representative of the Croatian Association of Deaf-Blind People Dodir, Katarina Jurilj, mentioned in her presentation the importance of communicating with deaf-blind people and how approaching them is essential to making them feel comfortable and not judged by society.
 This conference takes place each year in different cities in Croatia, and this year it took place in Daruvar. This was an important moment for the city to get more involved with the groups of people with disabilities, and at this point, Impress played an important role as co-organizer of this conference, showing in this way once again how much Impress wants to provide opportunities and equal chances for everyone, for everyone to be heard and part of society with no differences.
.