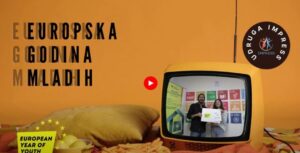 This is the year of youth, and it is the time for them to share their thoughts, to speak up about their issues, their difficulties, and what they want to change, and this can be done simply by using their voice to be heard, and to address their problems where institutions can hear them.
So we have decided to give some space to youth, and as an association that is concentrated on working with youth, since we are a youth center, we want to give youth space to share their thoughts, and in this way we can direct them to the right institutions where they will be heard and find solutions.
Impress, in addition to the European Year of Youth is inviting the youth from around Europe to share what they miss and want to change in their environment and communities. What are some of the difficult situations they face, and how are they dealing with them? Where are they directing their attention, and to whom are they seeking help and assistance to solve their problems?
With this campaign, Impress wants to be on the side of youth, to be there and support them on their journey, to make their way safer, and to prepare them for the new challenges that will come in their future.
Empowering youth for us is important because in this way we can build a better environment and make sure that the next generation will be able to deal with all the challenges that modernity and the changes in social, economic, and cultural backgrounds will present in the near future.
This campaign of collecting videos from all European countries will keep going, and all the youth can send their thoughts, challenges, positive stories, and innovative ideas that they have to impress, and all this will be a mosaic of all the thoughts and youth challenges from all over Europe.
With youth, we can build a better world, and each of us has the responsibility to create the right environment for them and support them with all the possible facilities that we have.