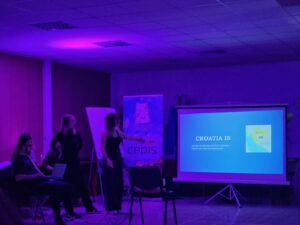 Impress is a step ahead when we talk about youth engagement and activism as part of society. This time impress was in Costinest Romania through a group of volunteers from all over Croatia and also one of the volunteers of Impress Gigi participate in this project. 
Youth people are the cause of Impress and we as an NGO empower them to gain new skills and to grow in a social and cultural context. Also is so important for the youth to be included in society and engage in public life and decisions.
This youth exchange in a way does exactly this empowering and giving the right tools to the young people on how to engage in social life and be part of their communities and have their own voice on the things that they want to change.
Impress continuously is an Avangard on the youth activities and projects which help in the skills development and support the youth in their growth path and be ready to face the issues and difficult situations that will come on their way.
In this youth, exchange participated also youth from Greece, Romania, Turkey, Lithuania, Latvia, and Poland. This diversity of participation helps the youth to get to know other cultures and be more open to diversity and find ways of integrating into each other cultures.
This youth exchange opens doors for future cooperation in projects about youth and youth work and building connections and networking which can be an added value for the future of each youth.