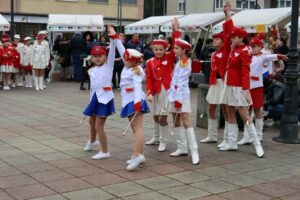 Among other activities what makes us as Impress a great environment for the promotion of talents and skills is that we are the place of opportunities. So, we make sure that the youngsters can have the space to show their talent and be involved in activities that can promote their skills in different areas of life.
Impress after a few months of work with young girls from Daruvar, Dulovac, and Bastaji and so much training that we provide each week practicing the majorette dance to these groups of young girls we concluded organizing a big event of majorette dance in the center of Daruvar.
During the event, we had a few groups of majorette dancers, and each of them performed a choreography that was prepared in advance and with a lot of dedication and work also thanks to our talented trainer Nevia. This work of a few months with a whole team concluded with a great result and this showed once again the great results that teamwork can achieve.
The event attracted the attention of the community and citizens from Daruvar and other towns were on the square to support and watch the performances of young dancers. 
Impress will keep supporting the youth at every step and encourage them to do their best and improve their talents and skills. At the same time, we promote the inclusion of all young that can be at risk of exclusion because of social and economical circumstances.
So with these events and with permanent work as a youth center, we are making activities for the youth to create social cohesion and include all the possible youth from all the areas and towns.